Farmer's Market only 2 weeks left.
Leavenworth County Fair Award Winning Jellies.
Blue Ribbon winner: Peach Basil and Strawberry Lemon
Mums for sale. Only $7 to watch them bloom right before your eyes. Only 6 left.
Bramble Rose Farm has Tomatoes, Onion, Garlic, Potatoes, Cantaloupe, Peaches, Apples, Eggplant, Cabagge and Corn.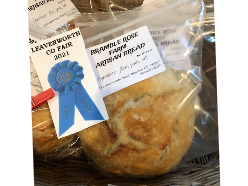 Leavenworth County Fair Award WinningBread and Pralines
28 Aug is the last Farmer's Market. It will be Fall into Autumn theme with Fall, Halloween and Christmas items for sale. Five24 Design will be here.